Chelsea Piers Fitness: Connecticut
Chelsea Piers Fitness in Stamford redefines the traditional gym experience. With facilities and amenities for nearly every interest, we offer unsurpassed opportunities for getting in your favorite workout, playing sports and socializing. Find out what makes Chelsea Piers the premier boutique fitness center in the Fairfield County area. Chelsea Piers Fitness in Stamford redefines the traditional gym experience.
Cardio + Strength Training
Try all of your favorite machines in our dedicated cardio area and strength deck. Mix up your workout on the turf training field, weightlifting and Olympic powerlifting platforms or book a package with one of our experienced Personal Trainers.
Group Fitness
Studio-quality programming led by the area's most inspiring instructors. Classes include TRX, cycling, HIIT, Zumba, Pilates, barre, yoga and boxing.
Swimming
Open swim in our Olympic-size, 50-meter pool. Programs for all ages and ability levels include a Masters swim team, triathlon-focused swim training, aerobic exercise and private instruction. Youth learn to swim program and separate warm water play area also available.
Squash
Members enjoy our world class squash facilities featuring 11 single and one doubles court. Set up your own match or join our Squash Round Robins and Ladders. Private instruction and learn to play classes with our elite Pros also available.
Sports Workout
Switch up your workout, try something new or discover a passion. Members have access to facilities for more than a dozen different sports including hockey, basketball, soccer, volleyball, squash, tennis, ninja and swimming.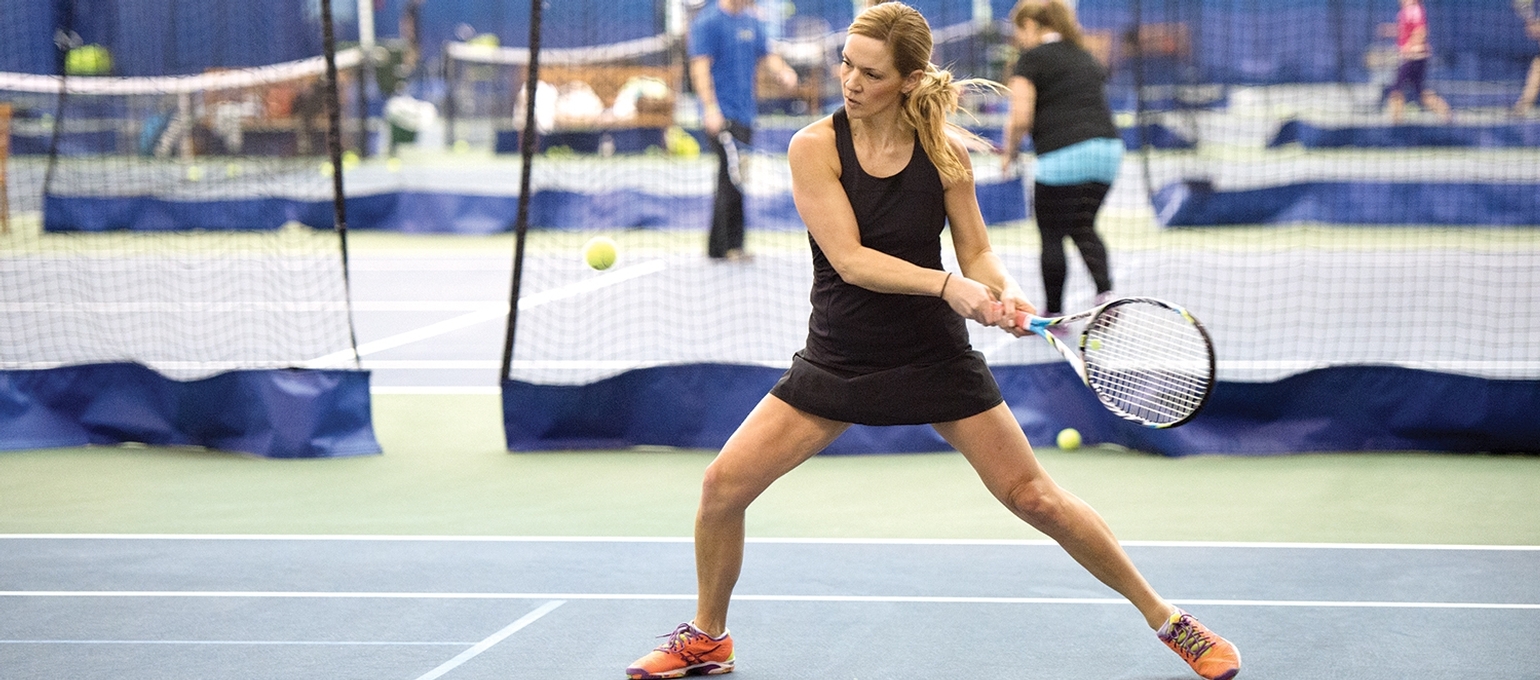 Tennis
Featuring seven indoor courts for both team and individual play. Join a clinic, USTA teams or a cardio tennis class. Members receive priority access and exclusive pricing on court rentals.
Pre/Post Workout
Our spacious member lounge includes a juice bar, along with comfortable seating for working, socializing and a wide range of member events. Have a bite, come socialize, work or just relax! Have kids? Family lounge available.
Luxury Locker Rooms
High-end, modern locker rooms are fully equipped with sauna and steam rooms, lockers with programmable locks, hair dryers, complimentary towels, robes and personal care products.
Kid Zone Babysitting Services
Babysitting services are available for the convenience of our family members. Affordable hourly rates allow busy parents to enjoy a workout while children ages 6 months to 5 years enjoy time in our colorful, vibrant Kid Zone.
Our Community
We are proud of our diverse community of members. We celebrate them weekly with a member events series that include specialty classes, food and wine tastings, family events and much more.
Space to Inspire
Unrivaled space, over 140+ classes a week, and amenities that keep you coming back; there is something for everyone. Swim, run, lift and sweat with us. We've redefined what a gym should be.
Schedule a Tour
We're confident that you'll love our facility. Contact us below to connect with a Membership Consultant and schedule a tour!